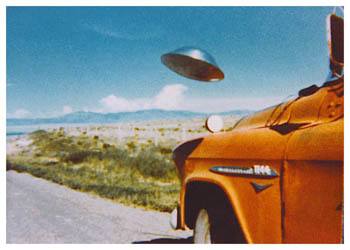 Alien attack possibility
Descripción
Alien attack possibility
"The earlier empires were built by aristocratic political elites and were in most cases ruled by essentially authoritarian or absolutist regimes. The bulk of the populations of the imperial states were either politically indifferent, … or infected by imperialist emotions …a quest for national glory, 'the white man's burden', 'la mission civilisatrice', not to speak of the opportunities for personal profit – all served to mobilize support for imperial adventures to sustain essentially hierarchical imperial power pyramids. The attitude of American public toward the external projection of American power has been more ambivalent. The public supported America's engagement in WWII largely because of the shock effect of the Japanese attack on Pearl Harbor. …. After the Cold War had ended, the emergence of the United States as the single global power did not evoke much public gloating but rather elicited an inclination toward more limited definitions of American responsibilities abroad. Public opinion polls conducted in 1995 – 1996 indicated a general public preference for 'sharing' power with others, rather than for its monopolistic exercise." (ibid. pgs. 24,25)
"In short, the 'house of world order' will have to be built from the bottom up, rather than from the top down. It will look like a great 'booming, buzzing confusion' to use William James' famous description of reality, but an end run around national sovereignty, eroding it piece by piece will accomplish much more than the old-fashioned frontal assault.
Of course, for political as well as administrative reasons, some of these specialized arrangements should be brought into an appropriate relationship with the central institutions of the U.N. system, but the main thing is that the essential functions be performed.
The question is whether this more modest approach can do the job. Can it really bring mankind into the twenty-first century with reasonable prospects for peace, welfare and human dignity? The argument thus far suggests it better had, for there seems to be no alternative. But the evidence also suggests some grounds for cautious optimism." (ibid. pgs. 558-559)
I am also constantly asked for proof – and my website has proofs in writings up the wazoo but no, I have to provide it each time afresh because clicking on a link is way too much trouble for many. Oh sure, everyone wants to see copious references all right, nicely formatted, which evidently imparts the warm-fuzzy feeling of imposing "expert" scholarship at work, automatically increasing with the number of footnotes and endnotes. But strangely, I have noticed that most people don't actually bother reading them carefully except to note their presence, never mind analyzing their veracity and reasonableness for themselves by studying the cited material.
Therefore, when I am unlayering and unraveling the most absurd in Realityspeak, as is the case here, I make the effort to carry the context along – because this one essay is all anyone will ever read, if one ever bothers reading a plebeian that is.
"The ability of our government to keep secrets (is actually) has a long history of being very valid. There is a lot of programs that were successfully kept quiet for decades, if not close to half a century. And during the last ten years we have seen a lot of announcements of programs that were kept very secret by our government." (Time 0:40:45),
Simple psychological profiling before selecting appropriate stooges to do the dirty work of empire is an art as old as hegemony, as old as mankind. And I am not even speaking of mind control ala MK ULTRA.
Just flying the experimental aircraft from USAF like those whose images are shown on the right, past any airliner cockpit to set the pilots up for UFO testimonies, should do the trick!
And if the pilots have been properly profiled, they would believe the evidence of their own eyes and would make the most sincere patsies passing even the most sophisticated lie detector tests with ease.
Military echelons and mission critical operations like Air Traffic Control, piloting an airliner, etc., absolutely must rely on psychological profiling for recruitment, advancement, special mission assignments, etc. as their standard HR practices. Even major corporations do psychological profiling. So what about very specialized recruitment for a calculated Hegelian mind-fck then?
1) what's the probability that the aliens will just time their arrival to earth in the span of a few million years in just those last 100 years when world government is being constructed piecemeal, and for which, the alien invasion is already deemed to be the final trump card ;
If that final number for the cumulative probability of the UFOs and aliens arriving just in time to usher in one-world Government, with the globalists exactly anticipating and waiting for their arrival, is a reasonable number, like something between 0.1 and something less than 1, okay, I'll buy the UFO sightings as possibly real and unrelated.
Returning from that digression back to pertinently listing my final study video of Dr. Steven Greer, I watched the following last one hour of interview with Project Camelot. It has now capped my weekend study and I really only learned one thing of significance in all this, and that is to ask that one surprising new principal question which came out of this entire study:
For instance, in the following video on his own website, the Orion Project, whose stated agenda is to harvest the alien technology to solve the world's energy and mankind's many problems, Dr. Steven Greer utters the following rubbish on camera (at minute 3:48):
To even top all that, Dr. Greer says he has three million dollars for inventors and scientists to come around and experiment with magic science which is not taught at MIT and CALTECH!
Which capitalist investor would give Dr. Steven Greer that kind of money for such lunacy – except compartmentalized black-ops with infinitely deep pockets for their own covert agenda?
So, up to this time, I am still thinking that this wonderful humanitarian Dr. Steven Greer, who gave up his supposedly lucrative medical career to pursue these idealistic goals to save humanity from itself, is just a passionate patsy being taken for a ride on the horns of scientifically sounding gibberish by the intelligence agencies.
And Project Camelot's Kerry Cassidy is heard in the backdrop saying: "sure".
The reader may note that my deconstruction of Dr. Steven Greer's hegelian mind-game is downright similar to what's in those two articles. Evidently, that author too approached this subject purely from a rational political science and social engineering perspective, and consequently arrived at the same conclusion that this was a major psy-op!
The new aspect discovered here, at least for me, is the aforementioned evidence which lends strong suspicion that Dr. Steven Greer cannot be just an ordinary patsy or a moron merely being used by intelligence, but a Mossad-Intelligence agent knowingly performing his assigned role of priming the public!
"Swine flu kept the world in suspense for almost a year. A massive vaccination campaign was mounted to put a stop to the anticipated pandemic. But, as it turned out, it was a relatively harmless strain of the flu virus. How, and why, did the world overreact? A reconstruction. By SPIEGEL staff."
The United States and the EU Governments, as the front errand boys of the oligarchs, are guilty of a monumental conspiracy against the people of the world.
"The underlying problem for the West is not Islamic fundamentalism. It is Islam, a different civilization whose people are convinced of the superiority of their culture and are obsessed with the inferiority of their power. The problem for Islam is not the CIA or the US Department of Defense. It is the West, a different civilization whose people are convinced of the universality of their culture and believe that their superior, if declining, power imposes on them the obligation to extend that culture throughout the world. These are the basic ingredient that fuel conflict between Islam and the West." (Ibid. page 217)
This Alien-UFO business no longer appears so innocent – and merely the pursuit of foolhardy peoples exhibiting an hyperactive imagination in overdrive – when examined from the acumen of Machiavellian social engineering, now does it?
Thank you for thinking for yourself.
---
---
January 25, 2011 | Last updated 12/04/2011 20:00:07 10015